When I started this blog, I envisioned that I would be doing book reviews, writing information about new releases, and making lots of sales posts. Unfortunately, the funds haven't come through like I hoped from the affiliate program, so I have to spend my time and focus on other things that will provide me with an income and not much time on this blog.
Nevertheless, I am excited to provide a review on a book from a new series from Susan May Warren.
Take a Chance on Me
is the first book from the Christiansen Family Series. And I highly recommend it. Five Stars. It's about a man, still wounded from his wife's death, who is falling in love again. Unfortunately his new love had a large part in keeping the wife's killer from going to jail.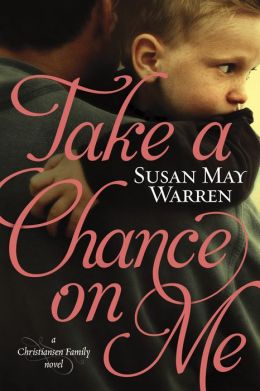 Here's the summary from the back of the book: "Darek Christiansen is almost a dream bachelor—oldest son in the large Christiansen clan, heir to their historic Evergreen Lake Resort, and doting father. But he's also wounded and angry since the tragic death of his wife, Felicity. No woman in Deep Haven dares come near.
New assistant county attorney Ivy Madison simply doesn't know any better when she bids on Darek at the charity auction. Nor does she know that when she crafted a plea bargain three years ago to keep Jensen Atwood out of jail and in Deep Haven fulfilling community service, she was releasing the man responsible for Felicity's death. All Ivy knows is that the Christiansens feel like the family she's always longed for. And once she gets past Darek's tough exterior, she finds a man she could spend the rest of her life with. Which scares her almost as much as Darek learning of her involvement in his wife's case.
Caught between new love and old grudges, Darek must decide if he can set aside the past for a future with Ivy—a future more and more at risk as an approaching wildfire threatens to wipe out the Christiansen resort and Deep Haven itself."
And if you want to know exactly how I felt about the book, here is the book review I left at bn.com for Take a Chance on Me:
What can I say except that I loved this book! Which is kind of weird because it took me so long to read this book. I said I would read it in exchange for some truthful reviews. I'm kind of a stubborn person, and the thought of having to read a book felt like school work (if you must know I didn't like any of the books that I had to read for school) so I put off reading it. Then it got some good reviews, and I was afraid to be the person who didn't like it. So I put it off some more. But once I finally started reading the book, I couldn't put it down. In fact, when I reached the final 120 pages, I was rationalizing that my boys didn't need clean clothes or dinner. They are boys after all, and I really, really wanted to finish the book as fast as possible. I couldn't wait to find out what happened to the characters. I felt as if they were real. (Don't worry though my boys were in clean clothes and didn't have to resort to eating cereal out of the box and I was able to finish reading too. Thanks to my husband).

Basically, Take a Chance on Me is the first book in a new series by Susan May Warren. It revolves around the adult children on the Christiansen family, who live just outside of Deep Haven, Minnesota. If you are a Susan May Warren fan, you probably know and love the people and town of Deep Haven. And they make appearances in the book. Or if you are like me and haven't read any of the Deep Haven series, don't fear because you won't feel left out. You won't need to catch up on the history of the other series in order to enjoy this one. Furthermore, Warren is a great writer and can tell a story without a background dump of information that will put you to sleep.

Take a chance on this new series (pun intended). There was adventure, there was romance, but not enough of one to overpower the other. I can't wait for the next book in the series to come out. In the meantime, I think I'll read the books in original Deep Haven series.