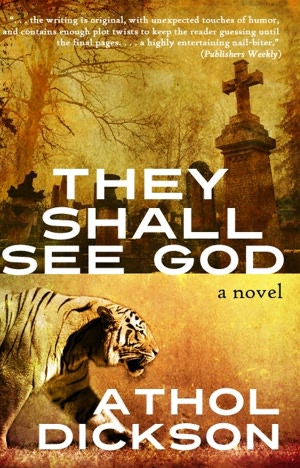 I started to write a review for this book a few weeks ago. I tried again and again but somehow my words felt inadequate for a book that moved my soul like this one did. I received this book on a Friday night, and since I usually work Fridays and Saturdays, I was disappointed. Disappointed because once I read the prologue and the first chapter, I was hooked and I had to wait until Sunday to finish the book. The crazy thing is that this was the first of Dickson's books that I read. And the fans of Dickson said this was their least favorite book of his. Of course, they still said they loved it.
Here's the summary from the back of the book:
Little Katie was a Christian. Her very best friend Ruth was a Jew. The girls' eyewitness testimony sent a bad man to Louisiana's infamous Angola prison. 25 years later, Ruth has become an embittered Rabbi, Kate is a lonely widow, the bad man is out, and people are dying in the strangest of ways.
Torn apart in childhood by animosities beyond their understanding, Kate and Ruth can no longer elude the past's unfinished business. To survive, these very different women must reach out to each other in spite of the mayhem and mistrust that shrouds one vital truth: sometimes the most dangerous of enemies crouches just inside the human heart.
Part of the book that intrigues me is the Jewish culture. I have been a Christian since I was a young girl, but there has always been something about the Jews in Biblical and current times sets my heart yearning to learn more. This book told a fascinating story but also showed modern Jewish culture here in America, a culture many Christians don't get to experience.
But it was more than a story about Jewish and Christian ladies. There was murder and intrigue But this story wasn't gory (which is good because I am not a fan of Ted Dekker, much less secular authors of thrillers) even with the murders. The murders weren't glossed over either. The way Dickson told the story was different than a lot of thrillers. He answered questions I had but the answers would cause me to ask more questions, which would be answered but caused me to have more questions and so on. In fact, the identity of the murderer was revealed pretty early in the book and I had a firm grasp of what was going on. Yet I was still on the edge of my seat. Until it all came together in a way I didn't expect.
This NOOK book is on sale right now for $2.99, but if the price goes up again to $9.99 it's still worth the price. There were a couple typos in the book but it didn't trip me up very often, I only noticed them in passing (Just so you know I hate typos in books and have been known to take a star or two off my rating because of the publisher's mistake). But I would give this book 5 stars. I will also review more of Dickson's books future posts. Click on the book above if you want to purchase the book at such a great price.
And in full disclosure: I was given a free copy of this book to review, but it in no way affected my opinion of the book. If it had, I would have published this review weeks ago ;)