NOOK Daily Find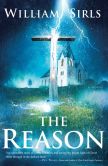 Today only, you can get
The Reason
by William Sirls for only $3.99. The description from the Barnes and Noble website is below.
"When facing the impossible, will you believe?
Storm clouds gather over a small Michigan town. As thunder shakes the sky, the lights inside St. Thomas Church flicker . . . and then go out.
All is black until a thick bolt of lightning slices the sky, striking the church's large wooden cross—leaving it ablaze and splintered in two.
When the storm ends—the search for answers begins."
Beth Moore Books
I found two Beth Moore books on sale for $4.99. I don't know how long these books will be at this price, so you'll want to get them right away.
Remember to check the prices before you buy. If there is a price difference between this blog and the Barnes and Noble site, you will be charged the price on the Barnes and Noble site.