For many, the month of September is for back to school or preparing for Breast Cancer Awareness Month in October. In fact, if you go to the grocery store, you will see pink already spreading throughout the store. Many miss the fact that September is Childhood Cancer Awareness Month. In fact, I would have missed it too if not for the fact that my six-year-old is pediatric cancer survivor (leukemia, three times).
Childhood cancer is the least funded cancer among the major types of cancer. It is estimated that for every dollar raised for cancer research, pediatric cancer gets about $.01 of it. One penny. I wish I could find the link to different research to prove it, but today I can't. But here is a link to a very interesting study on long term outcomes for pediatric cancer patients.
http://curechildhoodcancer.ning.com/forum/topics/currentlongtermoutcomes
As a parent, it's hard to sit through another month of people missing our month, and watching my friend's kids get relapse and sometimes die because they don't have enough money for research. I knew I had to do something to help, but what? If you know me, I am not a great organizer. So I would not be able to organize an event to raise money. But then I had an idea, I can write. So these last few days of Childhood Cancer Awareness Month 2012, I will be writing different articles to bring awareness to this disease. This is the first one I am writing.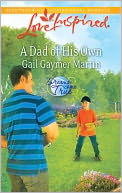 Gail Gaymer Martin recently wrote a series for the Love Inspired Line called
Dreams Come True
. This series is about a fictional wish granting organization in Michigan called Dreams Come True. There are three books in the series and each one deals with a character with some kind of pediatric cancer in the book. I read the first one (about leukemia, which my son had), and it characterizes very well what a parent goes through. The books are all about $4.24 right now. To many, childhood cancer is a sad thing, something to avoid, but you can be guaranteed with Love Inspired Books that there will be a happy ending, some romance, and good theology.
A Dad of His Own
http://www.barnesandnoble.com/w/dad-of-his-own-gail-gaymer-martin/1100342288?ean=9780373876570
A Family of Their Own
http://www.barnesandnoble.com/w/family-of-their-own-gail-gaymer-martin/1101999205?ean=9780373876945
A Dream of His Own
http://www.barnesandnoble.com/w/a-dream-of-his-own-gail-gaymer-martin/1108051894?ean=9780373877461
There are also some other, non-Christian fiction books that I liked about childhood cancer. The first one
My Sister's Keeper
by Jodi Picoult was the best, in my opinion (it's also a movie). It is gripping and explains the medical side of the cancer very well. The second one
I'm Not Her
by Janet Gurtler is about a younger sister, in high school, watching her sister go through a cancer diagnosis and treatment. It has some sex and alcohol in it, but I think it's a wonderful book about a sibling's cancer experience. Over the years on the children's oncology floor, I have seen many siblings in silent agony while their brother or sister is sick. This book gave a great voice to the siblings. Both these books are currently on sale for under $5.00. If you can't afford to buy these books, I suggest to try your local library. Mine has eBooks to check out on my NOOK, not all the ones listed but hopefully someday.
My Sister's Keeper
by Jodi Picoult
http://www.barnesandnoble.com/w/my-sisters-keeper-jodi-picoult/1100306511?ean=9780743488815
I'm Not Her
by Janet Gurtler
http://www.barnesandnoble.com/w/im-not-her-janet-gurtler/1100076215?ean=9781402256370