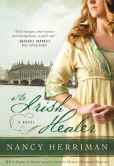 Today only you can get
The Irish Healer
by Nancy Herriman for only $2.99. The reviews from Barnes and Noble readers are great (four and five stars) for this book. Here's the summary from the back of the book:
Accused of murdering a child under her care, Irish healer Rachel Dunne flees the ensuing scandal while vowing to never sit at another sickbed. She no longer trusts in her abilities—or God's mercy. When a cholera epidemic sweeps through London, she feels compelled to nurse the dying daughter of the enigmatic physician she has come to love. James Edmunds, wearied by the deaths of too many patients, has his own doubts about God's grace. Can they face their darkest fears? Or is it too late to learn that trust and love just might heal their hearts?
Since this is a NOOK Daily Find, it will only be at this price today. As always, check the price before you download. If there is a price difference between this site and the Barnes and Noble website, you will be charged the price on the Barnes and Noble website.