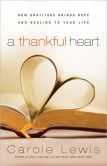 Lately there have been a lot of Christian books on the NOOK daily find, which is good for those of us on a budget. Today only, you can get
A Thankful Heart
by Carole Lewis for only $2.99. Here's the description from the back of the book:
So many people are stuck in the pain of their problems, unable to see beyond the hurt in their lives. Giving thanks in such circumstances may seem impossible, but thankfulness is a powerful tool God uses to heal wounded hearts and transform "stuck" people. In
A Thankful Heart
, readers will hear real life stories from people like them who have discovered the power of thankfulness to change both their inward attitude and their outward situation. Plus, this warm, inspiring book contains a Thankfulness Journal to guide readers into a new perspective and record the healing process as it unfolds.
Make sure you check the price before you buy. If there is a price difference between this blog and the Barnes and Noble website, you will be charged the price on the Barnes and Noble website. Thanks for stopping by today.